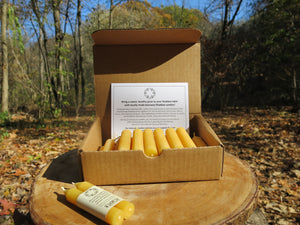 Is your school participating in our Beeswax Shabbat Candle School Subscription Program?! If so, you can get 36 pairs of Beeswax Shabbat Candles at a discounted price of $218.70 (normally $243)!
Use your school's coupon code at checkout!
Celebrate Shabbat and the Jewish holidays with clean, green, allergen-free 100% pure Canadian beeswax candles with organic cotton wicks!
Proudly made by Canadian honey bees and local Jewish artisans.
These candles are not labelled.
The purest and most natural of all waxes, beeswax burns cleanly, giving off a beautiful warm glow. Unlike petroleum-based paraffin candles that produce toxins, soot and black smoke when burned, beeswax emits negative ions, pulling pollutants such as dust, odours, toxins, and mould out of the air. Burning beeswax candles actually improves air quality and therefore improves your health, sleep, and overall well-being.
And by purchasing our candles, you are helping to protect our pollinators! 100% of proceeds go directly to growing and maintaining Shoresh's 4-acre Bee Sanctuary at Bela Farm.
Do you want your school to join this initiative? Let them know!